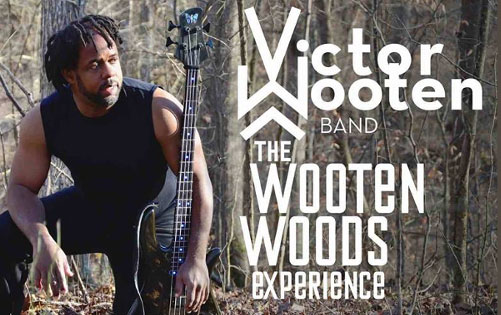 Victor Wooten is taking his educational camp on the road with the Wooten Woods Experience tour. The outing will feature the master bassist with his band as well as some students presenting an educational performance based on his Music and Nature camps.
The core of Vic's band will include his brothers Regi and Joesph Wooten with Derico Watson on drums. Special guests including his Bass Extremes partner Steve Bailey, saxophonist Bob Franceschini, and author Dr. Daniel J. Levitin will also be on hand. Together, they're sure to leave their audiences enlightened.
"Music is a great way – and a safe way – to teach just about any life principle," says Wooten. "To be in a band, you have to listen to each other. Bands are at their best when every instrument is different, not the same. Everyone takes turns talking and everyone speaks with their own voice. A lot of times musicians might ask, 'What would you like me to play?' I say, 'Listen to the music. The music will tell you exactly what it needs.'"
The tour kicks off April 15th at the City Winery in Nashville, Tennessee and will cover the Midwest before heading south to Texas. The final date is set for April 27th at the Granada in Dallas.
Check Joseph's calendar or VictorWooten.com for complete list of dates.