So Much Talent On This Stage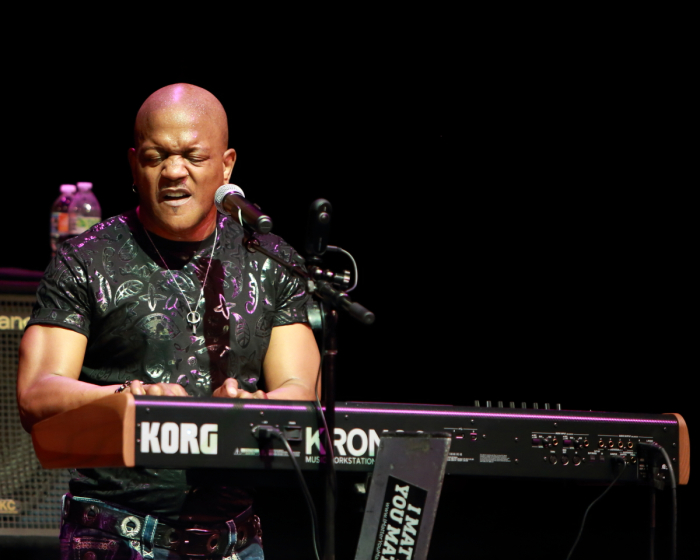 From suzereviewstheblues.com
I did not know what to expect from Victor Wooten and Sinbad's Fun 'N Funk Xplosion Tour's stop at the Amaturo Theatre at the Broward Center for the Arts, but at the least I knew I would experience an evening of great music. Victor is one of my favorite musicians to see live and I have seen him in many iterations, both with his own band and with Bela Fleck and the Flecktones. This show was something completely original.
First of all, who knew that Sinbad is an accomplished musician? I certainly did not… I am familiar with him as a comedian, but he played percussion, saxophone and trombone, as well as sang!
As the name of the tour states, this was a show of fun and funk music. I believe none of the songs they performed were originally penned by any of the artists on stage, but those familiar songs were transformed into their own stunning arrangements.
The show began with the Wooten brothers and Bob Franceschini on stage. Part way through the first song, Sinbad came out from the wings complaining that he'd been in the bathroom and nobody told him it was time to take the stage! The music stopped while they engaged in some playful banter, and Sinbad returned to the wings so Victor could announce him!
The setlist included songs from James Brown ("It's a Man's World"), Michael Jackson ("Billie Jean"), Barry White ("Can't Get Enough of Your Love"), Earth Wind and Fire, and so many more that I can't remember – I was too busy taking photos and listening!
Peppered in between songs – and sometimes during them – Sinbad poked fun at Bill Cosby and Kanye, and did a routine with audience members about what bothered them most about the person they were with! The audience participation was all in good fun and not at all mean-spirited, which fit perfectly into the show.
I have seen Victor perform with his brothers, but not with three of the other four in the same show! Victor is the youngest of five brothers, and arguably the best known but all are incredible musicians who deserve to be better known. Roy 'Futureman' is the percussionist for Bela Fleck and the Flecktones and plays an instrument called a drumitar. This was the first time I have seen him playing a regular drum kit!
Regi is the eldest and plays guitar. We were told that he taught Victor to play bass at the tender age of three! Wow! His facial expressions were priceless!
Joseph is the most understated of the Wootens, but he plays a mean set of keys and has a great voice (as do they all).
Bob Franceschini is an incredible saxophonist who has been performing with Victor in a trio (also with Dennis Chambers) for several years, doing a mix of jazz and funk. He is versatile and added much depth to this show.
Not one to miss an opportunity, Sinbad sang Barry White using a Barry White bass voice. I expected nothing less…
There was much wizardry going on among the brothers. Victor and Regi did this: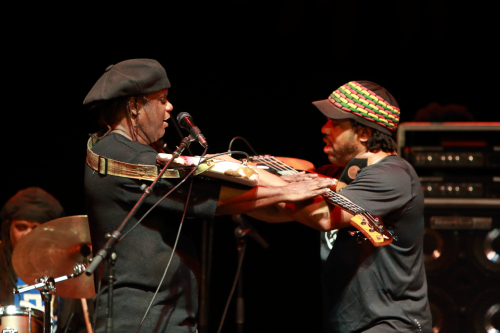 There were the times when Victor stood back (while still playing) and appeared to watch one of his brothers with an amazed look on his face.
This was my first time in the Amaturo Theatre and it is a lovely venue. It seemed to me that there is not a bad seat in the house, and the sound and lights are excellent.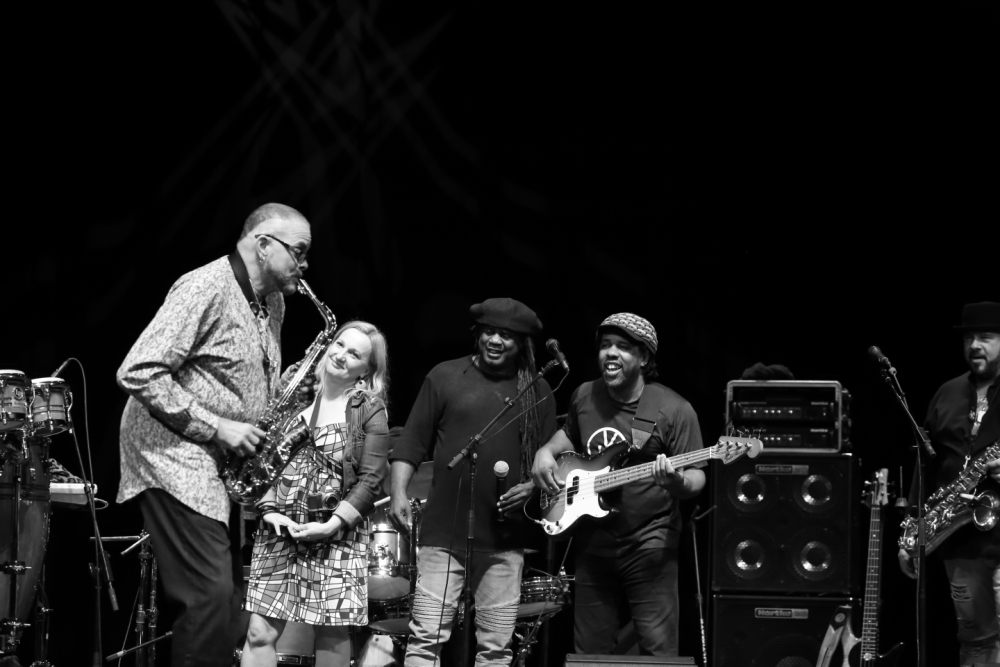 This was one of the last shows on the tour, so I cannot tell you to rush out and see them in a city near you, but hopefully they recorded a live version of the show that will be released. The Flecktones are touring in June and July (you can see Victor and Futureman) so you might have an opportunity to see at least part of this band. I recommend you do if you are near a show on the tour; I unfortunately am not.
Full article and photo gallery available here:
https://suzereviewstheblues.com/2018/05/05/so-much-talent-on-this-stage/#jp-carousel-16016