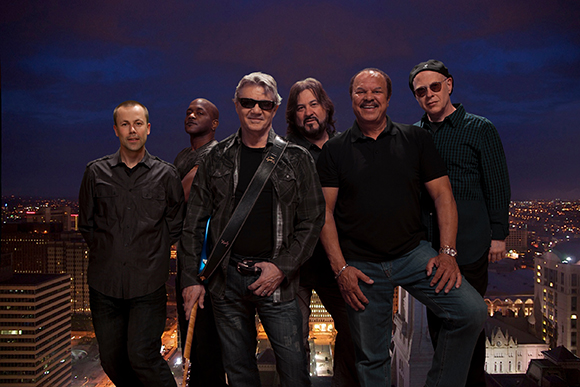 Journey, Steve Miller Band bring the classic rock memories at DTE
By Gary Graff, The Oakland Press

Clarkston, Michigan – The DTE Energy Music Theatre turned into time capsule on Wednesday night, July 9, blasting back in time with a mash-up of music from the '80s (Journey), '70s (the Steve Miller Band) and '60s (Tower of Power) — and, of course, references to the venue as the Pine Knob they all played at decades ago.
During more than three hours of music, in fact, there were only two songs played from this century. Suffice to say the old school ruled — which is exactly what the near-capacity crowd was there for, anyway.
There was, of course, a unifying theme to this trio of acts. All hail from the San Francisco Bay Area, with roots there during the late '60s. As Miller told fans on Wednesday, "We all grew up together," though that was unfortunately not enough to get any of them playing together, despite the fact Journey bassist Ross Valory had done time in Miller's band and Journey guitarist Neal Schon had jammed with Miller in the past. That was certainly an opportunity squandered.
But the nearly wall-to-wall hit parade more than mitigated that shortcoming. Miller in particular played the jukebox card during his 80 minutes on stage, loading his sextet's set with enduring hits such as "Jungle Love," "Take the Money and Run," "Swingtown," "The Joker," "Rock'n Me," "Jet Airliner" and an extended encore take on "Fly Like An Eagle." His guitar solo and subtle reggae touches even made his gimmicky 1982 chart-topper "Abracadabra," his last successful single, a little more palatable.
But the real delights in Miller's segment of the show were his less-celebrated songs, whether judiciously chosen album tracks ("Sugar Babe" and the bluesy "The Stake") or stylistic sidebars such as a version of Jessie Hill's "Ooh Poo Pah Doo" sung by band member Sammy Charles. The rootsy "Dance Dance Dance" was an energetic hoot, and Miller's solo, unplugged tribute to late harmonica player Norton Buffalo, whose instrument was certainly missed in Wednesday's arrangement, was both poignant and playful as he played "Wild Mountain Honey" and recited the "Gangster of Love" poem before finishing with "True Fine Love."
Journey, meanwhile, acknowledged at least a desire to be present-tense by including two songs — the melodic "She's a Mystery" and the hard rocking "Ritual" — from its 2011 album "Eclipse." The good intentions fell flat, however, in front of a crowd that was there to hear the favorites that filled the rest of the set, with an emphasis on the quintet's early '80s albums "Escape" and "Frontiers."
Journey started its 90 minutes in breathless fashion. Energetic Filipino frontman Arnel Pineda — still the most acceptable of the group's Steve Perry stand-ins, with points for sporting a Detroit Tigers T-shirt — sounding a bit strained on the opening "Be Good To Yourself" but righting himself quickly for "Separate Ways (Worlds Apart)," "Any Way You Want It," "Only The Young" and "Stone In Love." Bassist Valory saluted Detroit as Journey's "home away from home" and recalled the city's early support for the group, while Schon and keyboardist Jonathan Cain each took extended solo spots, the latter teasing bits of "Who's Crying Now," "Faithfully" and "Send Her My Love" before starting "Open Arms."
The crowd, of course, bellowed the "south Detroit" line during "Don't Stop Believin'," while the "Lovin', Touchin', Squeezin'" encore brought the night of warm memories to a blues-flavored close. "Thank you for always making us want to come back," Pineda said prior to the latter, and as long as Journey and Miller (and Tower of Power, whose funky opening set established a high-spirited tone for show) keep bringing the hits, those fans will certainly turn out, in droves.