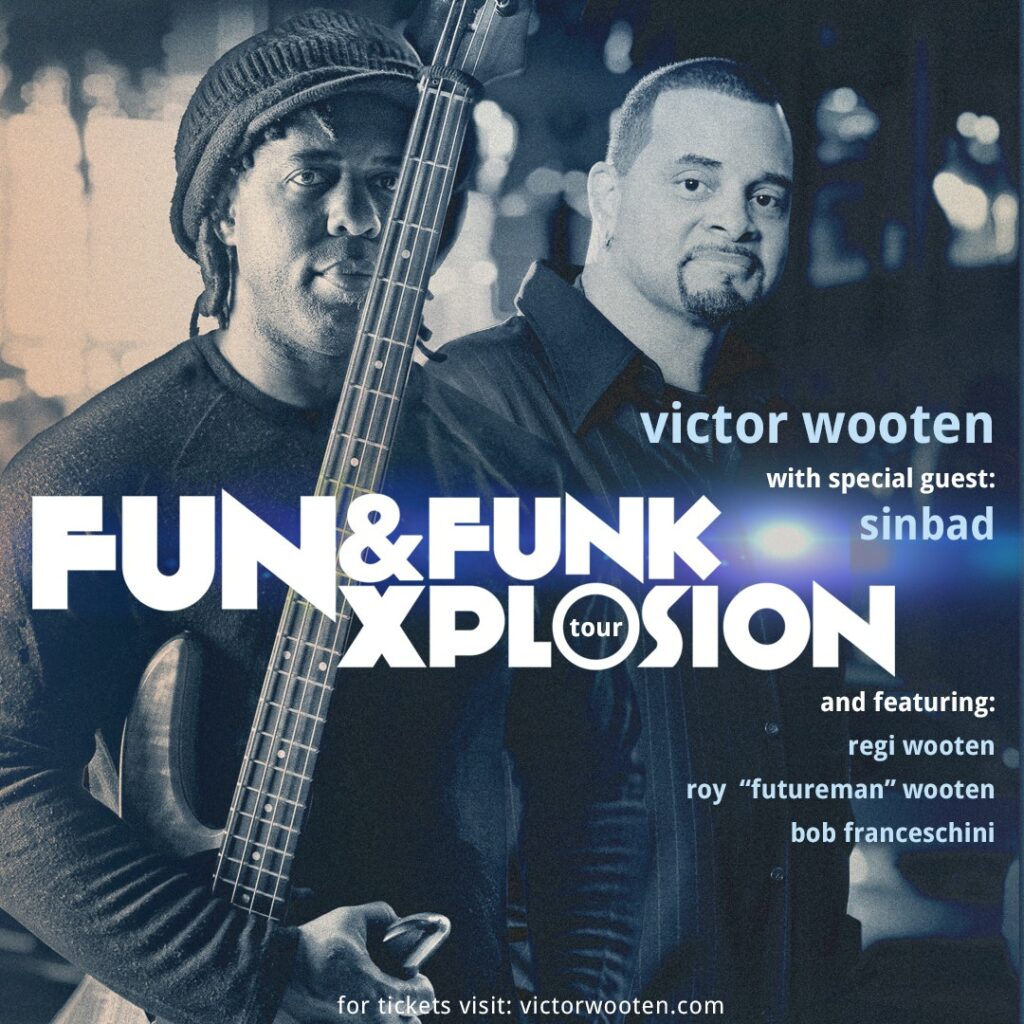 Victor Wooten, currently on tour in support of his widely praised new album, TRYPNOTYX, will kick off the eclectic "Fun & Funk Xplosion" Tour featuring special guestSINBAD April 24. The tour will also feature Victor's brothers Regi Wooten, Roy "Futureman" Wooten, and Joseph Wooten (on selected dates), as well as saxophone innovator Bob Franceschini. This exclusive limited10-date tour will conclude May 5, at the Buckhead Theatre in Atlanta, GA. A full list of dates is below.
"I get to tour with the most amazing people. Dennis and Bob have always been heroes of mine. I learn from them every night," says Wooten. "Rejoining with my brothers is always like a family reunion. They're my original teachers. The tour with SINBAD will be Crazy Fun. We all know he's funny, but most don't realize how musical he is. He's also a historian. This show is gonna be funky and funny, enjoyable and educational. I wouldn't miss is if I were you."
"I can't even begin to express how excited I am to be on this tour with Victor Wooten and friends," says Sinbad. "Although people may know about my love for music, most don't know that I also play (shedding hard for this tour ). I can't believe I get to be in the band playing percussion with Victor his brothers and the rest of this talented band. Victor is not only one of the baddest bass players that ever lived, but his approach to music is the most unique of any musician I have ever met. I am looking forward to picking everyone's brain on the tour bus about every instrument. The Funk is gonna be heavy on this tour, and I am all about the funk. All I can say is If you get a chance to check us out …you will be moved and blessed with some funk and fun!"
Wooten, a five-time GRAMMY award-winning musician, producer, composer, author, and educator, produced his tenth album TRYPNOTYX which features legendary drummer Dennis Chambers (Bootsy Collins, Santana), veteran saxophonist Bob Franceschini (Mike Stern, Paul Simon), and also features singer Varijashree Venugopal and comedian/voicetrumentalist Michael Winslow (Police Academy)
Named "one of the Top 10 Bassists of All Time" by Rolling Stone and one of "50 Iconic Black Trailblazers" in Huffington Post February 2017 (pictured just after President Barack Obama,) Wooten continues to lead and inspire. The youngest of five boys, he began playing music at two years old, and was playing gigs by the tender age of five with THE FAMILY band, the Wooten Brothers. Wooten first "wowed music heads" nationwide (Kansas City Star) in 1987, as a founding member of Béla Fleck & The Flecktones.
Catch Victor Wooten live on tour at a city near you.
FUN & FUNK XPLOSION TOUR
April 24 – Hamilton County Memorial Hall – Cincinnati, OH*
April 25 – The Redstone Room – Davenport, IA^
April 26-27 – SPACE – Evanston, IL*
April 28 – Bell's Eccentric Café – Kalamazoo, MI*
April 29 – The Caverns – Pelham, TN*~
May 1 – Ponte Vedra Concert Hall – Ponte Vedra, FL*~
May 2 – Capitol Theatre FL – Clearwater, FL*~
May 3 – Amaturo Theater – Fort Lauderdale, FL*~
May 4 – The Plaza Live – Orlando, FL*~
May 5 – Buckhead Theatre – Atlanta, GA*
•
June 19-23 – Blue Note – New York, NY^
*w/ Sinbad, Regi Wooten, Roy "Futureman" Wooten, and Bob Franceschini
*~w/ Sinbad, Regi Wooten, Roy "Futureman" Wooten, Joseph Wooten, and Bob Franceschini