Hundreds march on City Hall to protest planned cuts
By Sandra Tan | News Staff Reporter | @BNschoolzone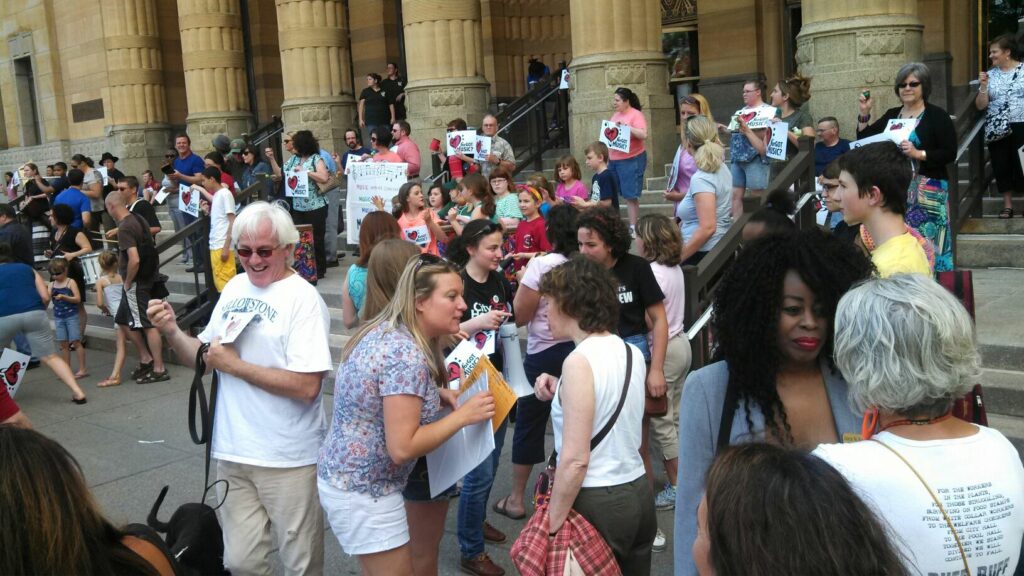 Bongos thumped. Trumpets and trombones blared. Cowbells clanged. Signs swayed and voices chanted, carrying messages like, "Music belongs to everyone" and "The board forgot music! We didn't forget!"
Instrumental music advocates literally banged the drum and sounded the horn Wednesday on the steps of City Hall as several hundred adults and children protested the dramatic cuts to the instrumental music program in half the city public schools that still have them.
In response to the outcry, many school board members said at their meeting that they needed to find any ways possible to restore the programs, including an appeal to the mayor and to the broader community for money to help bring band programs back.
"It is incumbent to us to find, as much as possible, ways to restore the instruction of music," said board member Barbara Nevergold.
The board approved a motion by board member John Licata to earmark any remaining year-end Board of Education travel funds to help restore instrumental music programs, with an eye toward that being "seed money" designed to challenge other government and private organizations to offer their financial support.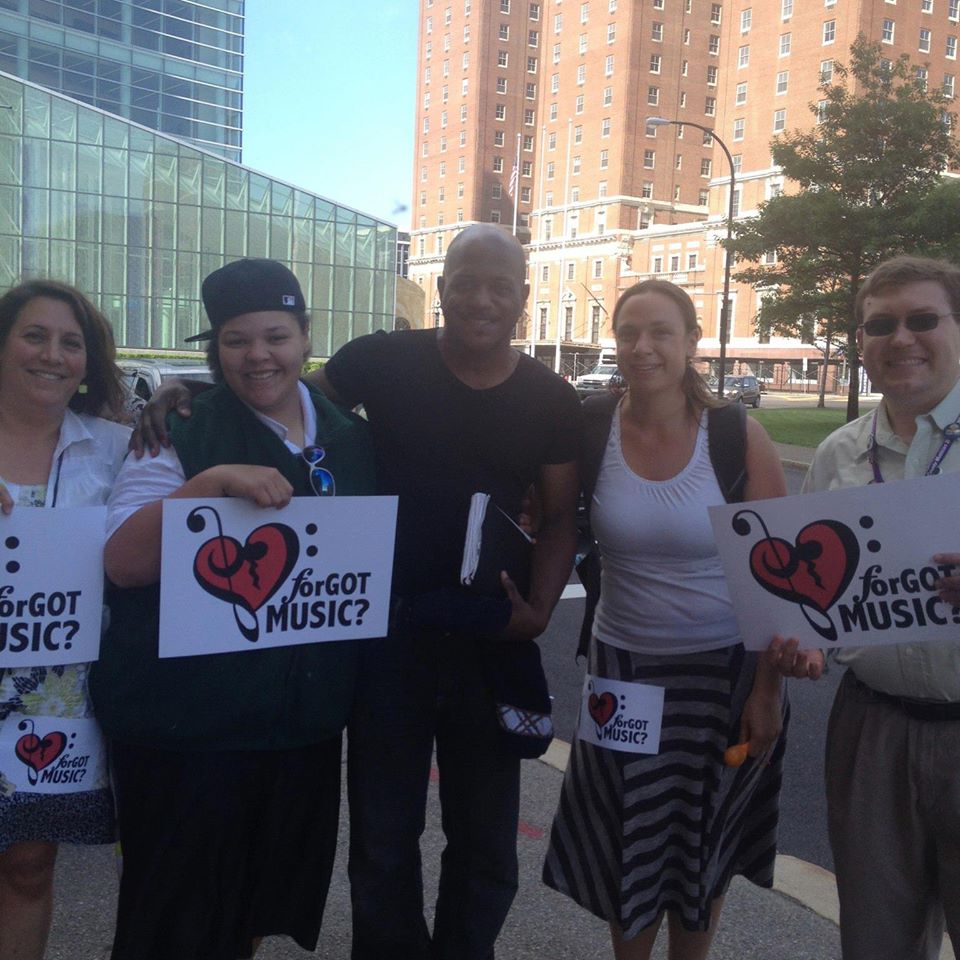 The keyboardist for the Steve Miller Band, Joseph Wooten, flew in Wednesday from Nashville to encourage music advocates and implore the school board to restore the district's instrumental music programs.
"People who understand that life doesn't exist without music shouldn't accept the idea that education can exist without music," he said.
"What is the use of having a board if the board can't see something that obvious?" he said.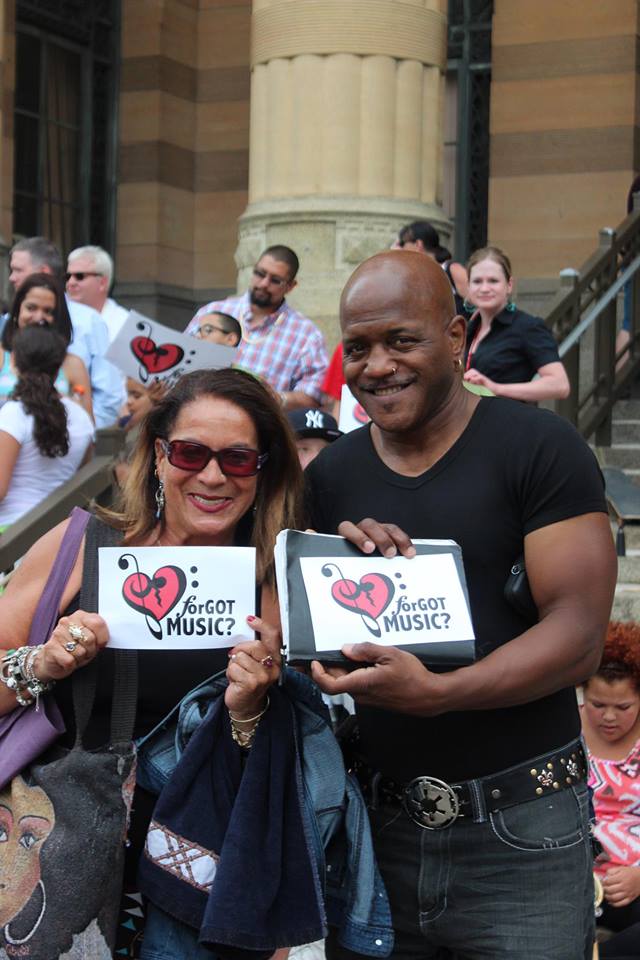 He and others questioned how the district can claim to adhere to its mission of providing "a world-class education for every child" while dismantling the district's band programs.
He also referenced the district's commendation at the start of the meeting for McKinley High School basketball players who won the Class A State Championship this year.
"Imagine if you had to tell them next year you wouldn't have sports," he said to the board. "You wouldn't let that happen. Music is as important as athletics."
City Honors School student Ana Blatto presented a box of more than 700 letters from students protesting music cuts. She said she visited several schools to discuss music cuts and came across scared and confused students.
She recounted a student at Herman Badillo Bilingual Academy who said she was bullied in school and burst into tears when she heard that instrumental music would no longer be her refuge.
"So don't take it from me when I say that the music program played a huge role in my life," Ana said. "Take it from the children at Herman Badillo whose lives were completely changed because of music in a way mine never could be."
Superintendent Pamela Brown reiterated that the cuts to band programs were made at the building level, not at the district level. She also stated that vocal music will be offered at all schools and see an increase next school year.
In response to some of the impassioned remarks made by 11 board speakers pleading for the restoration of instrumental music to the 14 schools that lost them, Brown urged the public to consider the broader picture.
"In grades three through eight, 70 percent of children are not reading at grade level," she said. "The standards in those areas are getting higher. They're not getting lower."
These children are looking at a bleak future if school leaders don't expend the resources to correct that problem, she said.
"These were tough decisions that were made at the school level," Brown said. "These are decisions that were not taken lightly."
Though Brown had initially said that six full-time instrumental music teachers were cut from the budget, district administrators stated Wednesday that the actual number of initial teacher cuts was eight. Teachers have said they believe the number is closer to nine and that the cuts will lead to the elimination of band programs at 14 schools and reductions at four others.
Buffalo Teachers Federation President Phil Rumore, who rarely speaks at board meetings, also showed up Wednesday to urge the board to restore instrumental music in schools.
"Cutting music sort of sends the wrong message," he said. "It says that maybe poor children needn't be exposed to instrumental and vocal music, and that's wrong."
Both Mayor Byron W. Brown and his Democratic challenger Bernie Tolbert came up in the long discussion about how to save the instrumental music programs.
Tolbert had shown up at the City Hall rally in support of teachers and parents, saying that it was "ludicrous to ask our principals to choose between math and music."
Licata and board member Florence Johnson, meanwhile, sought to pressure the mayor to commit more city funding to education and "show his commitment to education a little more aggressively."