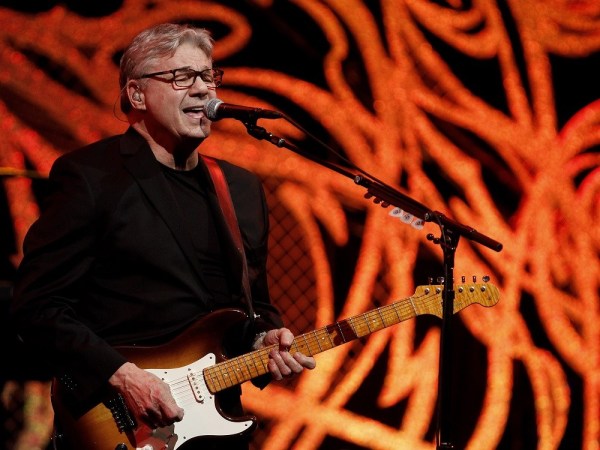 The Steve Miller Band help launch the Montreal International Jazz Festival with 1970s nostalgia
By: Bernard Perusse, Special to Montreal Gazette | Published on: June 27, 2015
Photos by Allen McInnis of the Montreal Gazette. Click here to see a photo gallery of scenes from the opening night of the Montreal International Jazz Festival's 36th edition.
If your nostalgia of choice is FM rock radio from the 1970s, the Steve Miller Band-Garland Jeffreys double bill Friday night at Salle Wilfrid-Pelletier of Place des Arts was right down your alley.
Veterans Jeffreys and Miller helped launch the 36th edition of the Montreal International Jazz Festival by delivering sets heavy on their best-remembered songs from the "Me" decade to a mostly older audience quite happy to relive their memories while seated, thank you very much. Only toward the very end of Miller's performance were they coaxed to their feet to do a little two-step and some polite hip-shaking.
Jeffreys toyed with the very definition of an opening act by playing a full hour. In fact, he cut five songs from the set list, having been given the "one more" sign from stage left. The warning came after the band had stretched out on a lengthy, dramatic reading of Mystery Kids, which included a harrowing reminiscence of paternal beatings.
All in all, though, Jeffreys's set was the more interesting of the two. A generous helping of material from his 1977 breakout record Ghost Writer pleased the crowd, notably a chillingly beautiful reading of Spanish Town and the New York strut of the bona fide classic 35 Millimeter Dreams.
Supplementing the oldies with excellent recent material like Coney Island Winter and Til John Lee Hooker Calls Me, the singer showed that he still has the will to take chances and a hotshot band that can navigate a well-paced and satisfying show. Let's hope he makes good on his promise to come back and do some headlining dates.
Miller's 90-minute set couldn't have failed to send people home with what they came for: note-perfect, human-jukebox interpretations of the biggies from his most successful chart period (1973 to 1977, give or take).
At times, the guitarist, looking healthy and somewhat professorial, gave us a peek at the blue heart of his music, most obviously during his takes on Little Walter's Blues With a Feeling, Johnny "Guitar" Watson's Gangster of Love and T-Bone Walker's T-Bone Shuffle.